Ly Son - Diary of a journey
RETURN TO PREVIOUS PAGE
May 26,2015 |
We arrived at Ly Son in the middle of hot summer under the indescribably hot and muggy weather of the Central Vietnam, but all the special and precious feelings were still remaining in each of us.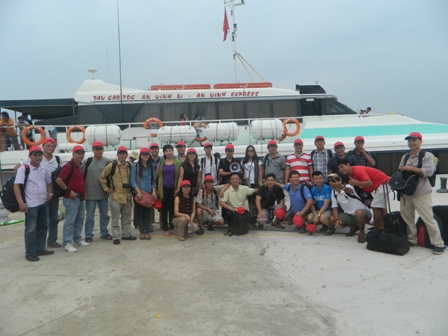 Program outline
June, 13th

Sai Gon was welcoming the down pour rain, the cool weather made us feel more exciting about our 4-day-trip. It's time to pick up the association at the airport, we had an appointment with 30 journalists there, they were waiting for us.
[alt]
No matter we were acquaintances or strangers, all of us happily shook hands, and chatted with each other. Ly Son surely had something really interesting that anyone also had expected. Sai Gon – Da Nang – Quang Ngai – Ly Son was a new tour, but Ly Son must have been the most noticeable place in this trip.
12: 15, arriving at Da Nang, we took a deep breath of fresh air, and felt a little bit sweltering from Han river. We had lunch in hurry, and then moved to Quang Ngai. Quang Ngai is a coastal province that located in South Central Coast, Vietnam. The coastline in Quang Ngai has the length is 129 km with 11. 000 km2 of territorial sea, which included 6 seaports with rich source of seafood and many beautiful beach. Quang Ngai is in the area of main economy in Central Vietnam with Dung Quat area was chosen by the government to build the first petroleum refinery of Vietnam. Quang Ngai province was re-established on July 1st, 1989, by dividing Nghia Binh province into 2 provinces Quang Ngai and Binh Dinh.
The sunset was coming in Cau Lau, on Thu Bon river, on the rice fields in the roadside linking North and South Vietnam, we spent the night at Quang Ngai. No one of us felt tired, each face was still cheerful and full of happiness. Everyone whispered in each other's ears a funny thing that: "Today, God loved us so the weather was so comfortable!"
ACCOM: Hotel:3
June, 14th
Checking out soon, we left for Ly Son. At Sa Ki port, there were plenty of people, tourists were visiting, some people were giving presents to children, merchants were selling,…It was a very busy port. We took time to take some photos to memorize this place. At 8:00, the ship left the port. Because the weather had changed suddenly, so in that morning, the waves were rougher. The boat was bobbing on the waves, each of us sat on the boat, enjoyed the sightseeing, and lost in our own thoughts. To me, I thought Ly Son was as same as a pure and decent girl. If we want to win her heart, we have to go through a long way and experience all the difficulties. After more than 1 hour on the boat, Ly Son slowly came into view.
Ly Son district is also named Cù Lao Ré, was divided from Binh Son district of Quang Ngai province according to decision of the Prime Minister of Vietnam in 1992, and had become an outpost island district since then. About this island district, the local residence had a sea route folk-song:
"Trực nhìn ngó thấy Bàn Than,
Ba hòn lao Ré nằm ngang Sa Kỳ"
This district is about 9,97 km2 square but the number of residence is up to more than 20.460 people. It includes 3 islands: Big island (Ly Son, Re isle) , Small island (Bo Bai isle) in the North of Big island, and Mu Cu island in the East of Big island. Ly Son district is divided into 3 wards: An Vinh (district capital – Big island) , An Hai ( Big island) and An Binh ( Small island).
[alt]
This island remains the trace of a volcano with 5 craters, which took shape 25-30 million years ago. The hot artesian water under the volcano provides thermal power to produce electricity which serving residence's daily activities in Ly Son. The traces of archaeology from Sa Huynh Culture which appeared earlier than 200 years Before Christ were found in this island.
In the first half of 17th century, King Nguyen organized Hoang Sa Navy, took people from An Vinh ward, Binh Son district, Quang Ngai district to Hoang Sa archipelago in order to catch precious see foods to offer to the King and collect goods, tools from those ships which were caught in a shoal.
In American War, Ly Son was the place that US Navy chose to settle the radar station to observe activities of the ships along the coastline of Vietnam. Nowadays, the radar stations such as the long range radar station N50 of Vietnam Navy are still working on this island.
There are 3 national relics: An Hai communal house (the relic relates to Hoang Sa Navy mentioned above), Am Linh pagoda (the place of worship those soul of a victim of an injustice, forsake spirits and martyrs from Hoang Sa-Truong Sa), Hang pagoda. Some archaeological sites of Sa Huynh culture were found in this island such as: Chình stream, Ốc village, 24 pagodas and small temples, and especially the traces of Cham Pa culture. Moreover, the tourists also can look for more historical information in Hoang Sa Museum, drink a gulp of fresh water of "King Well" – From Ly Son port go down to people's committee of District, cross Ly Son hospital about hundreds metres of road (in the middle the road from An Vinh ward to An Hai ward), turn right, go along a small road between garlic and onion green fields, keep going until we are close the border of the sea we will see this well. Legend has it that this was the well of Cham people – the ancient residences in Ly Son island – they dug this well hundreds years ago. The feature of this well is it was located near the sea, and built by laterite or antique brick of Cham people.
Cham people knew about feng-shui very well so finding the place to dig a well of fresh water when there was salt water around was very obvious. Besides Cham tower and many other architectures here, we can see that the art in finding the right place to dig well and build the dike to avoid invading of salt water were still the mystery of ancient Cham people. No matter how many suppositions there were, the name of "King Well" was a kind of honor from Ly Son's residences to a source of fresh water that the residences here have been using for hundreds years. The existence of "King Well" is the "lifebuoy" for thousands people on Ly Son island each dry season every year.
Spending a day with many famous historical relics, verdant and vast onion fields, garlic fields, and sesame rice fields, we spent the night at Ly Son. The night in this island was so peaceful! The wind was extremely cool, we were sitting as a circle around the table – there were many local specialties of Ly Son: boiled squid, conch, sea urchin porridge, boiled terrestrial crab,…- singing along some old songs with a guitar. Time passed so fast, until 1:00 AM, we came back to our room to take a sleep.
ACCOM: Hotel:3
June, 15th
We have breakfast in a hurry in order not to late for the boat at 7:30 AM, we said goodbye to Ly Son with the heart was immensely melancholy. Ly Son was still very poor! The residences here hardly went to school, the kids playing around their parents here had their skin burnt because of the blazing sun, they even couldn't study higher than class 5. They said that going to school couldn't make money, staying at home and go fishing in the sea could help them earn their living….
The boat was leaving, we looked back to Ly Son, each of us was also looking forward to a day to come back here, at that time, we would see a new Ly Son, a busy and developed one, we hoped to.
Goodbye Ly Son, Quang Ngai, we went to Da Nang to stay at night and the day after we would flight back to Sai Gon. All of our luggages were just a small bag, but besides it were many things such as: Orphaned garlic (solo garlic, Goby from Trà River…. We brought them home to be presents for our family.
Orphaned garlic – Single clove garlic is a precious kind of garlic, it is the precious thing of Ly Son and Vietnam generally, because it was plant on the ground of Ly Son island. The ground was made up by the active process of volcano and the consolidation of sea sands, and coral rocks. Thanks to the specialty of the soil and the traditional experiences from many generations from the very first day of this island, garlic from Ly Son has the special and unique flavor that no other kinds of garlic can compare.
Orphaned Garlic – Single clove garlic is also called solo garlic (which is named by local people). The growing process of this kind of garlic is not as same as the other normal garlic (1 bulb of garlic has many cloves of garlic) each bulb of this kind of garlic has only one clove. Because all of the nutrients of one tree are focusing on this only one clove naturally, even the farmers who plant those trees can't impact anything to this kind of tree to make this Solo garlic. In one garlic field, there is not much Solo garlic, so they harvest it a keep it very carefully. The residences like this kind of garlic very much because its own special use. Besides using it as a spice in cooking, it's also used for making medicinal wine to cure and prevent some disease such as: good for kidney, additional spermatogenesis, cure flu – backache, aches, sweaty hands and foots, hypertension, reduce blood fat, weak digestion, dyspepsia, fever, sinusitis,….
ACCOM: Hotel:3
June, 16th
We came back to Sai Gon, returning to our job and passions. We said goodbye to our customers at the airport. We had a great attitude from the bottom of our heart to our precious customers who cooperated with us to make this successful journey. Viet Mark had the honor of holding this tour Ho Chi Minh City – Da Nang – Quang Ngai – Ly Son for more than 30 journalists who were the guests of VDC2 company at Ho Chi Minh City.
ACCOM: Hotel:3
Overview
Price: VND
Tour length: 4 days/ 3 nights
Minimum: 0
Maximun: 0
What's included
All of this & more, included as standard on your trip
Reference price
__ VND/ person (for a group of 40 guests).
Service includes
Sound system, 6 facilitators, 8 bottles of water/guest,
4 breakfasts, 4 lunches, 2 meals at late afternoon, 1 gala dinner, 3 star-hotel (3 nights, twin-share), 45 seat-bus.